Stimuli for people and the environment.
Welcome to hebro chemie.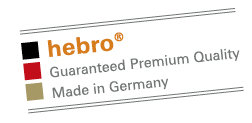 hebro chemie has its head office in Mönchengladbach, Germany, and is a reliable supplier of special-purpose chemical products of the highest quality.The company was founded in 1976 and, today, offers a broad range of innovative, highly effective premium products – for industry, the trades, the services sector and public institutions.
Our products are designed to increase efficiency in day-to-day life, maintain health standards and, of course, to protect natural resources. Find out more about hebro product groups. You won't be disappointed.
Stringent QHSE policies (quality, health, safety & environment) in connection with our production form a solid foundation on which to build future elements in hebro's success story.
That is why only the best raw materials are good enough.
That is why all the products that leave the company have been thoroughly trialled and tested in practice.
That is why intensive quality controls are of such great importance.
Processes are strictly organised in compliance with DIN EN ISO 9001, DIN EN ISO 14001 and OHSAS 18001.
Initiating stimuli for people and the environment – for hebro chemie, this claim is, at the same time,
a commitment.



Questionnaire & competition
Either keep getting better or you'll stop being good. This is why it is our declared objective to optimise our services continuously to guarantee our proximity to the customer and assure customer satisfaction at the highest achievable level. And you, as a hebro customer, can play a key part in this process.
more
...
News

Chemistry on the safe side – this phrase underlines hebro's completely new concept of enabling its customers to make full use of chemicals in a way that is fully within the legal framework.
more
...
Sales campaigns & new products
hebro chemie is always on the move. You can find out what we mean by "being on the move" in this section. For example, this is where we keep you up-to-date on additions to our product range and our latest marketing activities, such as special discounts for new product launches and special limited-time pricing for certain products.
more
...